Sylvan Grove is a coven of Witches, honoring the Fey and dedicated to living a Magickal lifestyle in the Sylvan Tradition, based in and around the U.S. city of Seattle, WA.
The Lady Sylvana Silverwitch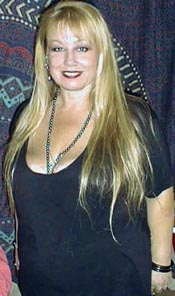 Lady Sylvana Silverwitch, Founder of Sylvan Grove, Witch Queen in the Sylvan Tradition
Attainment of Fifth Degree, 25 December, 2012
It is with much heartfelt emotion that we announce the death of Lady Sylvana Silverwitch, (Amanda Schindele-Silvers), High Priestess and Witch Queen of the Sylvan Tradition.
The Lady Sylvana passed from this material plane after a long illness. She is survived by her husband and the many loved ones of the Sylvan Grove coven and Sylvan Tradition.
Like the Goddess, Lady Sylvana is many things to many people: High Priestess, Witch Queen, teacher, author, lover, artist, sexy vamp, trusted friend, and gentle confidante. Lady Sylvana touched hundreds of lives in a variety of social circles. She was a person that anyone could go to, without shame or judgment, for wisdom, help, and compassion. She will be sorely missed. And yet we are joyful that she is at peace and that she achieved so much in her life.
Her accomplishments are many and varied, including among other things, being one of the founders and a publisher of the Puget Sound pagan newspaper, Widdershins.
She is the coven mother to the Sylvan Grove coven, from which branched the sister covens of the Green Star Grove, Silver Tree Grove, Woodsong Grove, and Spectrum Grove.
​Lady Sylvana, we do recognize you as High Priestess and Witch of the Sylvan Tradition of the Fifth Degree.
Because we recognize the Goddess within you, and because we recognize the God...
Blessed be your feet that danced the sacred circle and walked the Sylvan path of wisdom.
Blessed be your knees, which knelt at the sacred altars, not in supplication but in praise.
Blessed be your womb, the creation of life and the fire of passion.
Blessed be your breast, within which beat the essence of love, the joy of infinity.
Blessed be your eyes, now closed in seeking, but soon to gaze upon the sacred mysteries.
Blessed be your lips; may they ever be remembered for singing the praises of the God and Goddess.
Blessed be Lady Sylvana
-Lord Richard Blackcat, HP Sylvan Grove
December 25, 2012, Seattle WA
---